Just $4.99 for a .Com domain
.COM Domain now only $4.99 at exabytes. Original price $6.90 and now you can get it $4.99 with this coupon.
About Exabytes Network Private Limited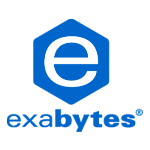 Founded in 2001, Exabytes has specialised in providing web hosting services such as shared hosting, email hosting, VPS, servers, domain name registrations, web security, etc to help SMEs grow their businesses online and achieve their dreams.
Exabytes currently have over 75,000 customers (from individuals, students, small & medium sized businesses, to government and public listed companies) in 121 countries, managing over 1000 servers with 100,000+ websites and 1,000,000+ email accounts.
Payment accepted:

Why should choose Exabytes
There're many reasons to make Exabytes be come a great company for beginer on internet. They have 15 years of solid experience in server management and web hosting with 99.9% Network Uptime & 99.5% Server Uptime, professional security team is available 24/7 to sloving any problems/issues with your websites. Below is main reasons why should choose Exabytes for the best services and hosting experience.
Reliability And Security
Fast Servers And Networks
Tons Of Features Without Hidden Fee
Fast Account Activation
Unbeatable Price
Customer Care With 24x7x365 Professional Technical Support
Complementary FREE SSL (HTTPS)
FREE DNS MANAGEMENT
Scalable Services
100 Days Money Back Guarantee