Domain registration Whois.Com Sale: Printable Promo Codes 2018
Sort By:
Whois.Com
---
No coupon required, you can register for unlimited the .biz domain from whois.com at just $3.48 each.
---
Whois.Com
---
Get your .Org domains at just $ 4.88 from Whois.Com. This special offer is applicable on the first year of registration only. This is an exclusive promo and valid while stocks last.
---
Whois.Com
---
Whois.Com discount 59% for new .Org domain registration with them. Following that, you can register new a .Org domain at just $4.88/yr each.
You can register as many .Org domains as you want.
Note
: Whois.Com do not offer Domain Privacy for free, So, if needed, you must pay for $2.88/yr for this.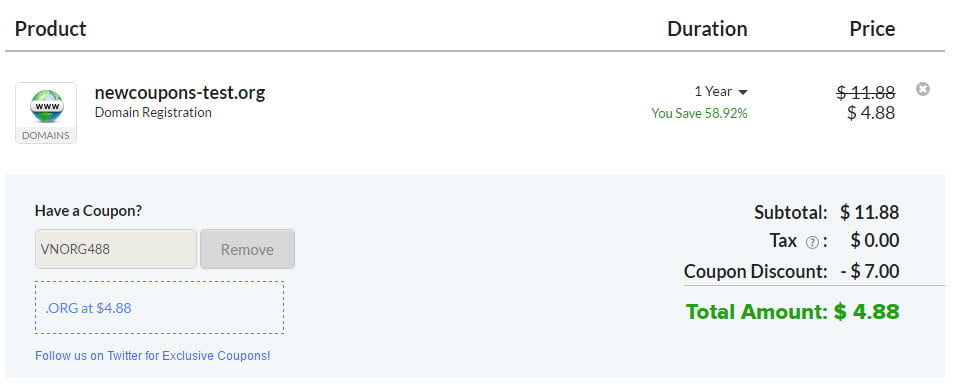 ---
Whois.Com
---
Up to 82.94% off when you registration of the .Asia domain from Whois. No Limit on number of domains you could purchase. Valid for the First year only. This offer is Limited-time only, so, hurry.
No coupon code required. Paypal & Credit Card are accepted.
---
Whois.Com
---
Register your .COM domain now for $6.88 only at
Whois.Com
. There are no restrictions on the number of the .Com domains that can be registered through this promotion from Whois.Com. This offer price is applicable to the 1st Year of New Domain Registrations only.
FREE Add-ons include:
Free Email Account
DNS Management
Domain Forwarding
Domain Theft Protection
Free Mail Forwards
... etc.
Coupon:
None.
---
Whois.Com
---
Whois.Com is offering a new .CO domain registration at just $0.98/year for a limited time, no coupon needed. Renewal cost at $29.88.
---
Unreliable Coupons (but give 'em a try)
Whois.Com
---
Register .NET domains for $2.88 only at Whois.Com. Hurry! Offer runs for a limited period only!

---
About Whois.Com
Whois.com is has a strong presence across Africa, Asia, Europe, South America, Australia and North America. They're offers services such as domain registration, high-quality web hosting, Email Hosting, Cloud hosting, Reseller hosting, Shared hosting and anything else you needs to started online.
They further provides 99.99% uptime guarantee for Web Hosting service. The team of dedicated customer support professionals and technical engineers are available 24/7 via telephone, e-mail and live chat. 
At WHOIS, we strive to be the world's top and most affordable online identity provider. We offer various products and services that would perfectly fit your desired online presence requirements. These includes serving everyone with comparatively inexpensive domain registrations, best in class web hosting services, easy to use website builder plans, comprehensive email hosting packages and digital certificate solutions. All these and more are coming as we continue to bring up new and innovative products at amazing value.
(Source: http://www.whois.com/about/)
Special pages
Website
http://www.whois.com
Support
Phone: +1 (415) 223 2628
Email: sales@whois.com
Headquarters Address
Whois Inc - c/o 9A Jasmine Road Singapore 576582 SG