The latest domain.com coupon gives you a big saving when register domain, transfer or renewal current domains. Domain.Com also is a one of the top domain registrar in the world, so there is no need to worry when register your favorite domains with them because they are totally safe and secure.



Special Offers
Domain Coupon
Show Coupon
–
Save 25% on new domain registrations (Valid for all extentions) !
Order Now
–
FLASH SALE! New .co domain names start at $1.99!
Get Now
–
Get a Free .BLOG Domain Name with every WordPress Hosting Purchase at Domain.com! Shop Now!
NEWDOM1
– Save 18% on New Domain Names, No minimum purchase required !
DOMFREE
–
Free Domain name with every Hosting plans (This coupon is good for a single, 1 year .COM, .ORG, .INFO, .NET, .BIZ, or .US registration per order with the purchase of a hosting or VPS plan)
But it Now
–
25% discount for .CO domain (just $8.9)
Order Now
– J
ust $8.24 for a .NET
$7.49 .Com
–
$7.49 .Com registration
Buy .ORG
–
$11.24 a .ORG
STARS
– 25% off
.NYC
domain
.IO Sale
–
Just $49.99 $37.4 a .IO domain
Web Hosting Coupon
BIGHOST
–
50% off web hosting
25HOST
–
25% off ALL New Web Hosting Plans, even VPS plans (Free domain)
SUPERHOST
–
Save 20% on Linux hosting & Windows hosting
DOMFREE
–
Free domain with hosting plan (Applied at Checkout)
SSL on Sale
–
25% off SSL certificate
EXTRA25
–
Up to 25% Discount on G Suite: Makes Your Email Professional
Renewal Coupon
18COOL
–
18% off products renewals
15SALE
– Save 15% on domain, hosting renewals.
Transfer Coupon
EXTRA25
–
25% off domain transfer
Order Now
– 18% off
Get Code
– 15% off domain transfer promo code.
About Domain.Com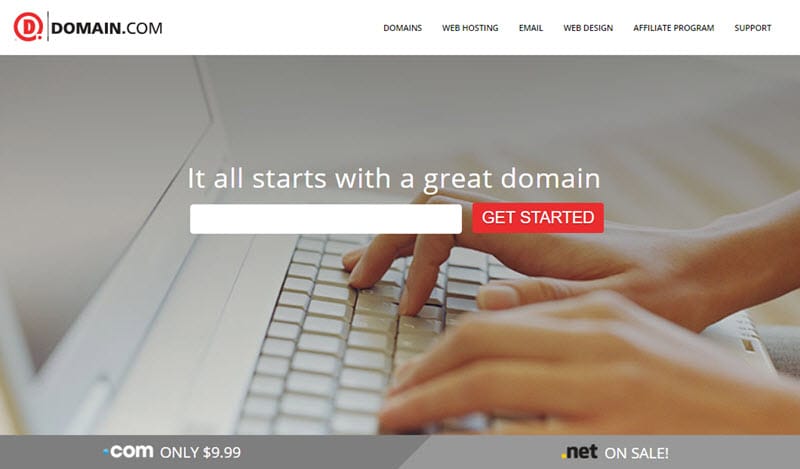 Domain.Com specialize in affordable domain names, Email, SSL certificates, web design, web hosting, VPS hosting and online marketing services, since 2000 and now they are one of the world's top domain registration and web hosting. Free domain services including URL Forwarding, Email Forwarding, Transfer Lock, and Total DNS Management, give customers comprehensive control over their domain portfolios.

Domain.com LLC
www.domain.com
A: 13115 NE 4th St STE 240, Vancouver, WA 98684
E:
[email protected]
P: +1 800-403-3568
The Pricing With/WithOut a Coupon

Domain Prices
Web Hosting Prices
VPS Prices
New Registration
Transfer
Domain
Regularly
25% off
15% off
Regularly
15% off
10% off
.COM
$9.99
$7.49
$8.49
$8.29
$7.05
$7.46
.NET
$3.99
$2.99
$3.4
$8.29
$7.05
$7.46
.ORG
$8.99
$6.74
$7.64
$8.29
$7.05
$7.46
.INFO
$2.99
$2.24
$ 2.54
$8.29
$7.05
$7.46
.BIZ
$9.99
$7.49
$8.49
$8.29
$7.05
$7.46
.US
$8.99
$6.74
$7.64
$8.29
$7.05
$7.46
.CO
$9.99
$7.49
$8.49
$8.29
$7.05
$7.46
.ME
$9.99
$7.49
$8.49
$8.29
$7.05
$7.46
Linux
Windows
Hosting Features
Basic
Deluxe
Ultra
Basic
Deluxe
Ultra
Price
$3.75/mo
$6.75/mo
$13.75/mo
$4.75/mo
$7.75/mo
$14.75/mo
Free Domain
Disk Space
Unlimited
Unlimited
Unlimited
Unlimited
Unlimited
Unlimited
Bandwidth
Unlimited
Unlimited
Unlimited
Unlimited
Unlimited
Unlimited
Domain Hosted
1
Unlimited
Unlimited
1
Unlimited
Unlimited
FTP users
5
25
Unlimited
5
25
50
MySql/MSSQL
10
25
Unlimited
10
25
50
Website Builder
Email Addresses
100
250
Unlimited
100
250
Unlimited
One-click install
| Features | Standard | Pro | Premium |
| --- | --- | --- | --- |
| Dedicated Ram | 512 MB | 1024 MB | 2048 MB |
| Disk Space | 20 GB | 40 GB | 60 GB |
| Bandwidth | 1000 GB | 1500 GB | 2000 GB |
| Linux: CentOS | | | |
| PHP, Perl, Python | | | |
| Control Panel (cPanel/WHM) | | Available | Available |
| Web Analytics | | | |
| Mailboxes | Unlimited | Unlimited | Unlimited |
| MySQL Databases | Unlimited | Unlimited | Unlimited |
| Domains | Unlimited | Unlimited | Unlimited |
| Setup Fee | None | None | None |
| Price | $29.70/mo | $41.60/mo | $67.95/mo |
Domain.Com Account Management
Leave comment if you need help on management account at Domain.Com. Hope this post can help save you money while buying products & services at Domain.Com. Goodluck 🙂