The latest godaddy .info coupon in October 2017 help you buy a new .Info domain at GoDaddy with just $1.99 first year, and additional .Info whois privacy only $1.00/yr.




At this time, beside discount for .net domain just $8.99/yr or 99 cent a .Com, Godaddy also offering special sale for the .Info domain. If you buy a new .Info domain you pay for just $2.00 for first year. This price is cheaper than most of domain registrar, however still expensive than 1and1.com (they're selling .info just 99 cent 😀 ). But include with this offer from GoDaddy, you also can addition whois privacy to your .Info domain with only $1/yr, total cost for domain + whois privacy just $3.00/1st year. Good price for anyone who liked GoDaddy.
1. .Info just $1.99/1st year
For a limited time! you can buy unlimited first-year of the .Info domain with only $2.00/1st year. No promo code required. Accept payment via Credit Card and Paypal.
*** No Need Coupon.
*** Update: Promotion is running!!!
2. The Trick to get discount on .Info domain $3.00/1st yr (no coupon required)
1. Go to this link.
2. Search your .Info domain, add it into Shopping Cart.
3. Enter coupon "CJCRMN3CP" if you want to make this domain is privacy. (just $1.00/1st yr)
4. Switch your currency to

. After switched and applied coupon above, the price for .Info domain has dropped to VND 69000 and domain privacy is VND 21.000. 😀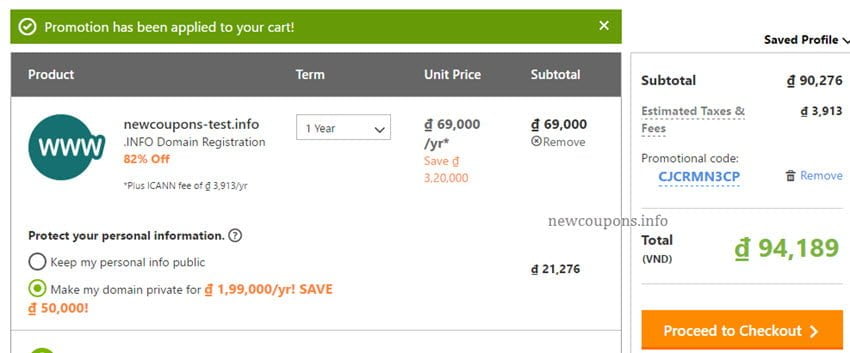 5. Make the payment.
Check: Convert VND to USD
2. Use .Info Coupon $2.6/1st year
– $2.6/y new .Info domain.

– Change your country to India – English.
– This coupon accept Paypal.
– Plus ICANN fee of

$0.18
Best GoDaddy Discount Codes
–
Economy Web Hosting for just $1/mo (plus free .com, .net, .org, .co)
– Managed WordPress hosting for just $1/m (free domain)
– .COM + Website Builder + Email – Only $1.00/m
– Get 12 months of Personal Website Builder for just $1.00/mo
>> Need more discount codes, please click here.
Have a nice day 🙂