With an .online domain you can tap into this revolutionary trend for the benefit of your business, group or blog. Now buy new .Online only $4.99 at GoDaddy (You saved $45 with equivalent of 90%), you also can made private for your .Online domain with just $1.00 per year plus more.
How to get cheap .Online domain and $1 Private at GoDaddy ?
1
Go to
this link
for buying cheap
.Online with only $4.99 per year.
2
Enter your .Online domain, click to
Search Domain
button

3
If your domain is available for buying, click to
Select
button then click to
Continue to Cart
button.

4
You choose
Privacy Protection
at the
Make it private section
in the
Domain Configuration
page, then click to
Continue to Cart
.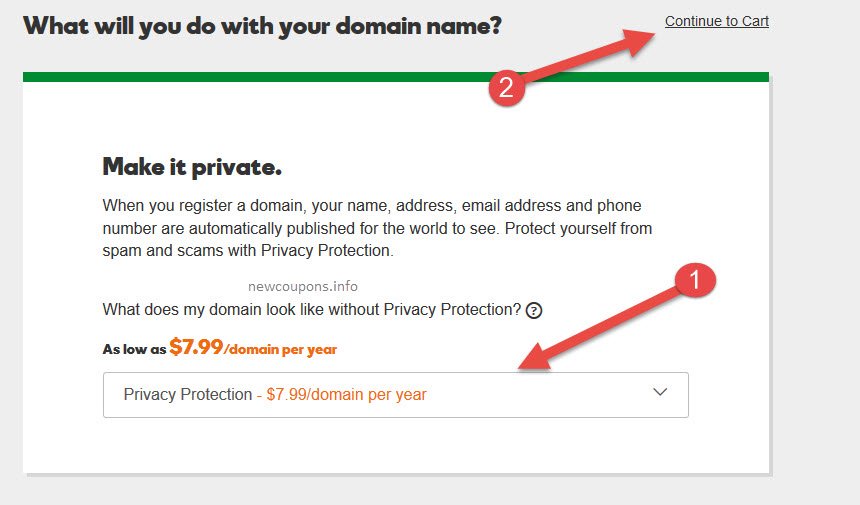 5
On the
CheckOut
page, scroll to down and click to
" Have a Promo Code? "
, then you enter coupon
"cjcrmn3cp"
to promo code box, then click
Apply
button.

6
You're Done
. The next step only are fill your billing information, choose your payment method that you want,
you also can use Paypal for payment with this coupon code
.

If you need privacy for another domains at GoDaddy, you can use godaddy private registration coupon codes on our site, with only $1/y per domain, very cheap. Good Luck for you and have a nice day 🙂