Godaddy is #1 Domain Registrar and Domain Management of the world's with big savings over the competition, A long list of FREE extras – website & more, free 1-yr extension, 24/7 service that's second-to-none.



if you want transfer your domain to godaddy, use promo code bellow to save your cost. we will update the newest coupons in this post, please subscribe or save this link.
| Coupon | Description | Exp |
| --- | --- | --- |
GoDaddy Transfer Coupon for .COM domain
PRICES
COUPON CODES
EXP
$0.81
(Save $14.18)
Limited time
$0.99
Feb 2018
$1.49
February 2018
$2.00
Feb 2018
$2.25
February 2018
$3.0
Feb 2018
$8.99
February 2018
Save 40% on domain transfer
Feb 2018
How can you apply a transfer promo code at GoDaddy ?
GoDaddy has redesigned their Domain Transfer page. And now, everytime you try to transfer your domain, they will ask you sign in first, then will redirect you to their Check Out page with no promo code field at there. Follow our tips below and you will be able to enter the discount codes when transferring domain names.

Step 2. At Bulk Domain Transfer page, enter the domain that you want transfer to the area Bulk Domain Transfer, then click to Go button. Next, at the Available For Transfer section, you click to Proceed to Checkout button.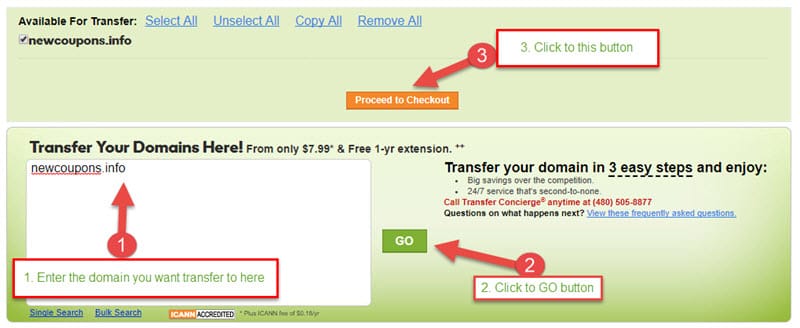 Step 3. Next, You will land on to a check out page where you can enter the coupon. Now, let copy one of our above transfer coupons then enter it to the Have a promotional code? then enjoy the saving 🙂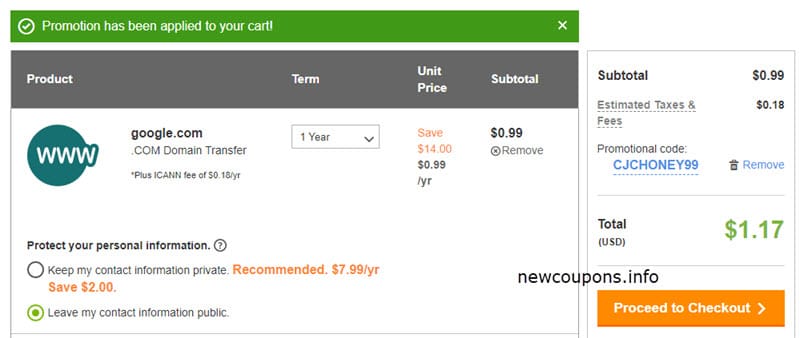 FEATURED GODADDY COUPON CODES
–
Save 40% on all products (include SSL, VPS, Reseller, New Domains ext…)
–
.IN
just $2.99 per year!
–
.US On Sale! $1.00/year
–
.NET
now $8.99/yr (can use for bulk's)
–
.Org
now $3.72 per year!
– .Info just $2.99 first yr !
–
.Asia
as low as $3.99/y
–
$0.99 .COM registration
– $.99/y for
.De
domain, first year.
– Get 92% off
Domain Privacy
(just $1.00/mo).

–
Get 12 months of Economy Web Hosting for just $1/mo (plus free domain net, org, info, biz, co)
–
Managed WordPress hosting for just $1/m
– Special Offer:
Personal Website Builder
for just $1.00/mo (Free domain)
–
.COM + Website Builder + Email
– Only $1.00/m
>>> February 2018 GoDaddy Promo Codes: https://www.newcoupons.info/godaddy-coupon-codes/
GoDaddy Renewal Discount Code
– Up to 20% for domain and hosting renewals.
Wish you success 🙂