Web Hosting is what makes your site visible on the web. Web hosting need fast loading, secure and reliable. GoDaddy is the hosting company that has included all of that features with good price for everyone and you even can skin savings if use our hosting coupon codes to get new hosting with cheapest price, as low as $1/mo ($12/yr), plus 01 domain for free.


What is Web Hosting? (video by GoDaddy)
Need more information about this service (such as the features, the pros and cons, speed test results…), please access to the article "
godaddy hosting review
" on our site.
GoDaddy Hosting Coupon
(These coupon codes below are also worked fine for Windows Hosting plans)
Coupon Codes
Description
Ends

Web Hosting

Economy Plan for just $1/mo, one domain free with purchase of a new 12 month (or more) plan.
Free domain included: Com, Net, Org, Co, Cn, Xyz, or Club.
Apr 30
Save 54% (just $4.49) on Deluxe hosting plan
April 2017
Ultimate plan now only $7.99 per mo, save 50%. Free domain with annual plan, 2X processing power & memory, Premium DNS and 1-year SSL certificate to secure customer data and increase search rankings
April 2017

WordPress Hosting

Special Offer! Managed WordPress Hosting for only $1.00 a month!
April 2017
Get 50% off on Deluxe/Ultimate/Developer plan
Limited time

Dedicated IP

Save 35% on Dedicated Hosting Ip, as low as $46.72 per year, $3.9/m
Apr 2017

Premium DNS

Premium DNS starting at $1.9/m, only $23.32 per year
Apr 2017

VPS hosting

This promo code help you save 35% on all Virtual Private Servers (VPS) at GoDaddy. Specific the VPS plan will starting at $279.42 (saved $150.45), $23.2 per mo!
April 2017
Notes:
Hosting promotions can payment via Paypal and Credit Card.
Free domain only applied for contract of 12 months or longer.
Offers valid for new customer only.
One domain for free is .Com, .Net, .Org, .Co, .Cn, .Xyz, or .Club.
Deluxe and Unlimited Web Hosting Plans support and host unlimited Web Sites, but with more than 400 Web Sites may experience periodic decreases in performance.
Ultimate plan will get free 1st SSL SSL certificate.
Why you should choose GoDaddy Hosting?
More Selections
GoDaddy offers a lot of hosting plans for you choice. If you have a basic site, you can choose Economy Plan, If you have multiple sites and need handles the most complex sites and heaviest traffic you can choose Deluxe/Ultimate plan in Shared Web Hosting. WordPress Hosting also is strength of GoDaddy, they has made it simple, security and blazing fast. Besides, GoDaddy also provide Cloud Servers, Virtual Private Servers (VPS), Dedicated Servers…Below are some of GoDaddy hosting details:

Web Hosting
Wordpress Hosting
VPS Hosting
| | Economy | Deluxe | Ultimate |
| --- | --- | --- | --- |
| Free domain with annual plan | | | |
| Websites | 1 | Unlimited | Unlimited |
| Disk space | 100 GB | Unlimited | Unlimited |
| Monthly bandwidth | Unlimited | Unlimited | Unlimited |
| FTP users | 50 | 50 | Unlimited |
| MySQL databases | 10 x 1 GB | 25 x 1 GB | Unlimited x 1 GB |
| Database backup/restore | | | |
| DNS management | | | Premium DNS |
| Multiple websites | — | Unlimited | Unlimited |
| cPanel | 11.40.1 | 11.40.1 | 11.40.1 |
| Easy application installer | | | |
| CloudLinux | | | |
| SSH access (secure shell) | | | |
| FTP over SSL (FTPS) | | | |
| 24/7 phone/email support | | | |
| 125+ free applications | | | |
| Number of addresses | 100 | 500 | 1,000 |
Linux Plans
Ram
1 GB
2 GB
3 GB
4 GB
8 GB
Storage
40 GB
60 GB
90 GB
120 GB
240 GB
Bandwidth
1 TB/mo
2 TB/mo
3 TB/mo
4 TB/mo
8 TB/mo
Price
$299.88/y
($24.99/mo)
$359.88/y
($29.99/mo)
$419.88/y
($34.99/mo)
$599.88/y
($49.99/mo)
$1,199.88/y
($99.99/mo)
Discounted Price
$194.93/y
(35% off)
$233.93/y
(35% off)
$272.93/y
(35% off)
$389.93/y
(35% off)
$779.93/y
(35% off)
Get Discount
More Functions
Hundreds of free features has been provided by GoDaddy on all Web Hosting Plans. Such as Free Domain, 24/7 security monitoring and DDoS, free daily backups & 1-click restore… details:

1-click setup for GoDaddy registered domains
24/7 security monitoring and DDoS protection
1-click purchase of additional resources
1-click install of 125+ free applications. (WordPress, Joomla, Drupal, etc.)
Flexible, easy-to-use control panel
1GB database storage
Free domain with annual plan
Free (1) Microsoft Office 365 Email – 1st year free
Free daily backups & 1-click restore
Premium WordPress Hosting Platform
99.9% uptime promise and money-back guarantee
150+ interactive WordPress walkthroughs and training videos
Need Reviews ?
Below are reviews posted from Editor's to help you have a specific look to Web Hosting services at GoDaddy.
And Helpful posts:
How use Godaddy Hosting Coupon
Go to Godaddy Web Hosting page, select the type of hosting that you want.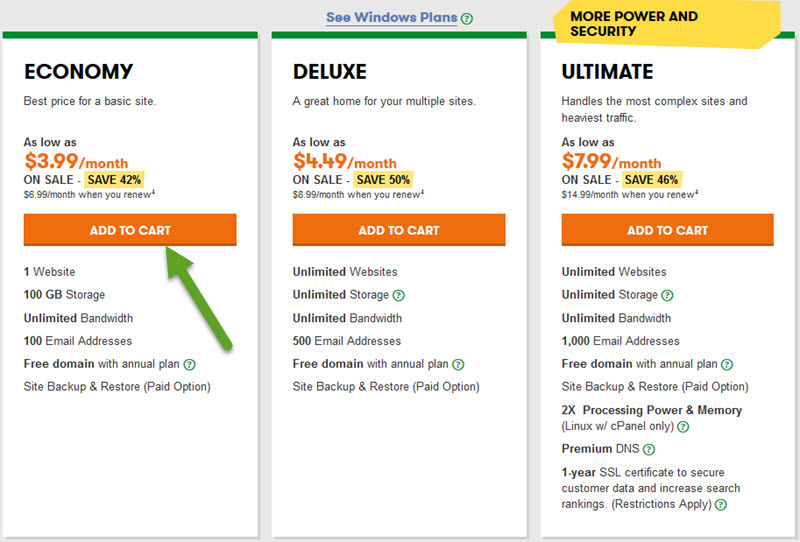 Choose some options will be include with your hosting, then you go to the Check Out page. On this page, look to right panel, you'll see the "Have a promotional code?" field, paste coupon you has copied into it.



You can paste multiple coupon codes until found the codes give the maximum savings. Also, you can get more discounts for godaddy products at godaddy coupon post.
Just needed a domain?


Godaddy often offer free domain when purchased new web hosting, you also can management that domain, can DNS to another domain registrar if you want. This offer is great for any webmaster want to start new project with cheapest price. But in some cases, if you really do not need to used web hosting and only wanted a domain with low price, Godaddy also provide it for you. On this time, the .Com domain registration at GoDaddy is very cheap with just 99 cent a domain. Hurry, let order your domain now because this offer is limited time, can expire at anytime.
Hope can help you, and always wish you success with your own domain name & web hosting. Thank for visitting, have a nice day 🙂