Register.Com offers all things that needed to start business online, such as web hosting, web site design, e-commerce, search engine marketing, SSL Certificates, e-mail and domain name registration services… with affordable prices. Moreover, you also can be use register.com coupon while you make a payment with them for get the cheapest. All of the promo code below has been checked by our team and worked at the posted time, if you found any codes does work, please let us know.

Register.Com Coupon Codes
Codes
Description
Ends

Domain Registration Coupon

Free Domain With Web Hosting Packages
April 2018
$0.50 for a

.COM

domain
Limited Time
$0.50 for a .NET domain
Limited Time
$0.50 for a .ORG domain
Limited Time
$0.50 for a .INFO domain
Limited Time
$0.50 for a .BIZ domain
Limited Time
$0.50 for a .US domain
Limited Time
Restrictions on $0.50 domain registration offer: Valid for new customers in the US and Canada only and limited to a total of three domains.
Get $15 off Domain names
Apr 2018
10% Off All The Domains On Joining The Buyers Club
April 2018
Sale off on Domain Expiration Protection
Apr 2018

Web Hosting Coupon

Web hosting for just 99 cent/mo
Limited Time
Essential Hosting just $5.95/mo (Free domain)
Apr 2018
Premium Web Hosting Starting From $9.95
April 2018

Renewal Coupon

Domain renewals at $10 – one year.
Limited Time
Just $15.95 for renewals
April 30, 2018

Other Coupon

15% Off on Site wide
April 2018
$11 Off (buy 3 years) Premium SSL Certificate
Apr 2018
Basic Email for just $39.90 /yr.
Apr 2018
Just $9/mo eCommerce website
April 2018
How use a register.com promo code ?
1.
Visit to
Register.Com
, looking for the product you want to buy, add it into Shopping Cart. I buying a new .Com domain as the example.
2. Next screen, Register.Com will showing you some extra packages that will included with you domain, if you do not need anything, just click to Continue button at the Domain Only section.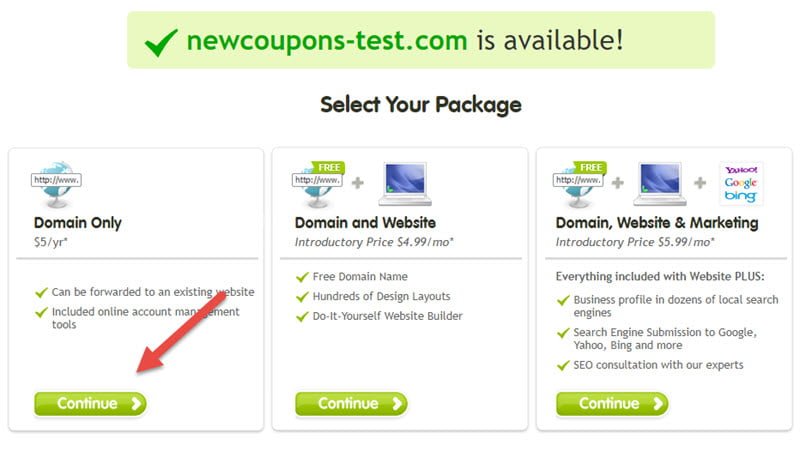 3. Next, Register.Com gives you 01 month to try use their Professional Email for free. If you like to try it click to Get domain + Email button, if not, click to the link Continue with Domain only at below.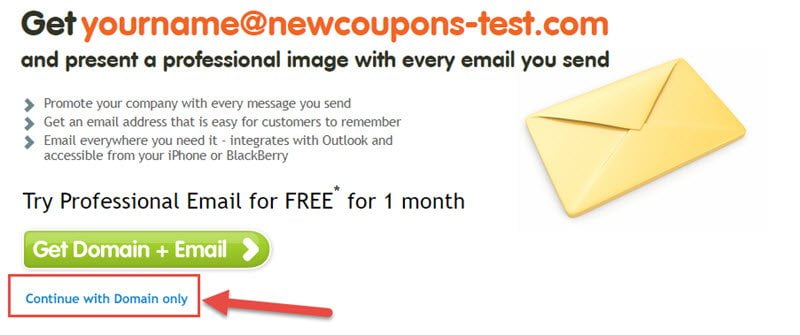 4. Next, If you were an existing customer, just logged in. If not, you enter your personal information to all fields that they're required.
5.
At Shopping Cart page, let review again your product list that you're buying and don't forget to remove Private Domain Registration if you do not need (you must pay about $11 for it). Then you click to the link
Enter the promotion code
and paste a
register com promo code
to this field, then click
Apply
button. Then you click to
Proceed to Checkout
button.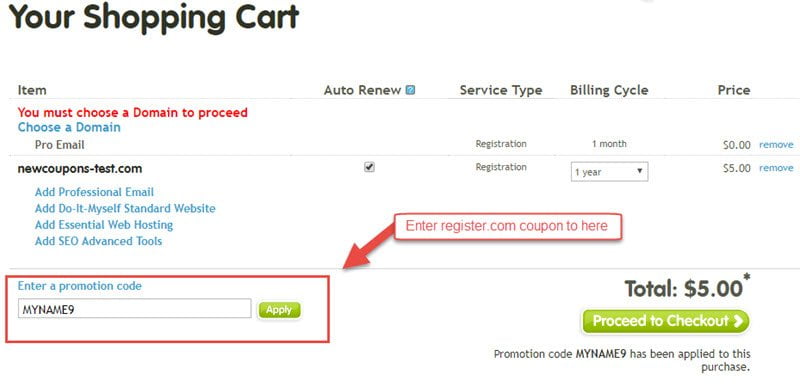 6. Next screen, you choice a payment method you want and make the payment to finish.
About Register.Com

Register.com was founded in 1994 and is currently headquartered in Yarmouth, Nova Scotia, Canada. Is one of the world's largest domain registrars. In addition to being a domain registrar, they also provide many other online services such as web hosting, website builder, SSL certificates, Seo… Since 2010, Register.com was purchased by Web.com. ( Web.com is the company has purchased Network Solutions in 2011, is one the largest domain registrars in the world).
You can connect to Register.Com on:
FaceBook: https://www.facebook.com/register.domain
Twitter: https://twitter.com/Register_com
YouTube: https://www.youtube.com/user/webdotcom/
Don't forget leave a comment to let me know if these above coupons are doesn't work with you. Good luck, guys 🙂