When compared to other hosts in the market, DigitalOcean is rather a new entrant. However, it the few years it has been in operation, the company has made a name for itself as a trustworthy cloud hosting provider. This DigitalOcean reviews intends to help you understand its products and services, and why it could or could not be the best solution for your hosting needs.

The first this that should be noted is that DigitalOcean is not really a cloud host. You get a normal KVM server. They however provide cloud-like features like pay-per-hour, quick deployment, templates, and use of credit to create servers. This has been a source of confusion for many customers.
Another source of confusion is the nature of DigitalOcean's services. Many clients have complained that after hosting their websites, they experienced downtime that even extended to months. What most fail to understand is that DigitalOcean provides VPS servers on demand. What you decide to do with them is entirely up to you. This means that you are responsible for all server set up and maintenance.
We must also mention that this company offers the best prices in the market. It is therefore easy for you to create small, scalable servers that you can build up on as your needs increase. You also get unrivalled performance thanks to the fast storage media and ultra-fast network infrastructure that DigitalOcean employs.
Available plans
One thing that DigitalOcean have got right is their pricing. Other hosts that offer similar prices charge a premium making it difficult for startups and small businesses to afford it. With DigitalOcean however, you can get premium services at a price that won't vacuum your pockets dry. Moreover, They often offering digitalocean coupon in every month, every time sign up new account you'll get special offers of $35 free credit in your account balance for try their services, and you can cancelation all droplets that was created at anytime (no fee) if you do not satisfied the services.
Depending on your needs, there are 3 major plans available. We will discuss them below.
Plan 1: Standard Droplet
Like the name suggests, this package offers you standard features. But they are by no way standard. If you have done some research on the prices available on the market, you will understand why shortly.

| | | | | |
| --- | --- | --- | --- | --- |
| Price | Memory | Processor | SSD Disk | Transfer |
| $5/mo ($0.007/hr) | 512MB | 1 Core | 20GB | 1TB |
| $10/mo ($0.015/hr)(Most Popular Plan) | 1GB | 1 Core | 30GB | 2TB |
| $20/mo ($0.03/hr) | 2GB | 2 Core | 40GB | 3TB |
| $40/mo ($0.06/hr) | 4GB | 2 Core | 60GB | 4TB |
| $80/mo ($0.119/hr) | 8GB | 4 Core | 80GB | 5TB |
| $160/mo ($0.238/hr) | 16 GB | 8 Core | 160 GB | 6 TB |
| $320/mo ($0.476/hr) | 32 GB | 12 Core | 320 GB | 7 TB |
| $480/mo ($0.714/hr) | 48 GB | 16 Core | 480 GB | 8 TB |
| $640/mo ($0.952/hr) | 64 GB | 20 Core | 640 GB | 9 TB |
The Standard package has
9 options
for you to choose from. They range from $5 every month ($0.007 per hour) to $640 per month ($0.476 per hour). As you can see, this makes it possible for even small time businesses and hobbyists to enjoy premium service. For example, the $5/mo. package gives you 512MB of RAM, 1 processing core, 20GB SSD storage space, and 1TB bandwidth. If you are trying out how a new website will perform, this is the best and most affordable solution. Best things is that you can easily scale up whenever the need arises.
Below is a comparison table for features offered by four of three competing companies: Linode, Amazon Web Services, and Rackspace
| | DigitalOcean | Linode | Amazon Web Services | RackSpace |
| --- | --- | --- | --- | --- |
| Price | $20 per month | $40 per month | $60 per month | $87.6 per month |
| RAM | 2 GB | 2 GB | 1.7 GB | 2 GB |
| Storage | 40GB SSD | 96GB HDD | 160HDD | 80 GB HDD |
| Deployment time | 55 seconds | 3 minutes | 10 minutes | 10 minutes |
As seen from the table above, DigitalOcean does not only have affordable prices, but also offer better services. Deployment time is under a minute and it uses SSD storage. You therefore get better performance than any other host.
Plan 2: High Memory Droplet
If the amount of RAM in the standard package is not enough for your needs, the high memory packages have more than enough memory for all your applications. This package is ideal for applications that are database intensive and need a lot of in-memory caching.
Depending on your needs, you can opt to go for a package that offers 16GB RAM up to 224GB of RAM. The table below breaks down the packages under this plan.
| | | | | | |
| --- | --- | --- | --- | --- | --- |
| Price | $120/mo. | $240/mo. | $360/mo. | $480/mo. | $960/mo. |
| Processors | 2 core | 4 Core | 8 Core | 16 Core | 32 Core |
| RAM | 16 GB RAM | 32 GB RAM | 64GB RAM | 128GB RAM | 224GB RAM |
| Storage | 30 GB SSD | 90GB SSD | 200 GB SSD | 340 GB SSD | 500 GB SSD |
| Bandwidth | 6 TB | 7 TB | 8 TB | 9 TB | 10 TB |
Plan 3: SSD Block Storage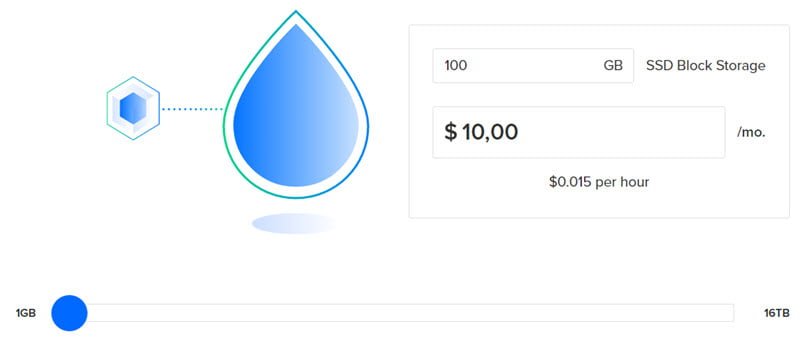 This plan is not stand-alone. It is more of an additional to a plan you already have with DigitalOcean. If you run out of space or want to scale up, you have SSD-based block storage at your disposal. You can attach up to 16TB of storage to your existing droplet. A great feature is that this extra storage is easily scalable at any given time.
1 GB of the extra storage costs $0.10 per month. Therefore, if you need an extra 10GB, at the end of the month, you will pay an additional $1 (or $0.001 per hour) for the extra storage. Very cheap for SSD storage. Right?
Features that DigitalOcean offer
To have made a name in such a short period of time, DigitalOcean must have offered features that rivalled those of competing companies. These are what make it an industry leader.
Very fast deployment
The time a server takes to become live after deployment has a great impact in pleasing a client and making them want to come back. We compared this time to other competing companies namely Linode, Amazon web services, and RackSpace. DigitalOcean's servers deployed in a record 55 seconds compared to 3 minutes for Linode and 10 minutes for both Amazon Web Services and RackSpace. Needless to say, if a client was to make a decision based on this alone, DigitalOcean would be the best company hands down. It makes it very fast and easy to deploy servers to any of their datacenters.
Simple API Interface
DigitalOcean's tagline goes "Simple Cloud Hosting built for developers". True to this, the company offers a very simple API interface that developers can take advantage of to deploy and manage their servers/droplets effectively and efficiently. The interface allows use of simple, programmatic HTTP requests to make calls, retrieve information from your droplets, or even execute actions. Interestingly, all functions that are available on DigitalOcean's control panel is available on the API. You can therefore create scripts for all your tasks – simple or complex – and execute them without logging into your dashboard.
Fast SSD Storage
The invention of SSD storage has truly revolutionized computing services. From simple personal computers to huge data centers, everyone is moving away from HDD storage. DigitalOcean is one of the pioneer companies to make the transition. It offers all SSD storage meaning you get the additional power and speed that SSD offers. Thanks to this, you can get up to 2Gbps of download speeds and 1Gbps upload speed from your droplets.
40Gbps Network
Fast storage media would not make a lot of sense without a matching network connection. To make sure that all their customers enjoy optimum speed and performance, DigitalOcean boasts a 40Gbps network that connects all their 8 datacenters. You therefore get blazing fast speeds with no lags whatever task you are performing, size of your droplet, amount of bandwidth needed, or physical location. In fact, the only bottleneck to the speeds you receive is the speed of your connection to the internet.
Plenty of Storage Space
If you run out of space on your droplet, DigitalOcean allows you to attach more space to suit your demands. You can have as much as 16TB of SSD storage attached to each of your droplets. The extra storage is highly available, meaning you can get it whenever you need it. No delays whatsoever. What is more, you can also resize the amount of storage attached to your droplet on the go. If you need more, you can increase the allocated amount and if you need less, it is equally easy to downsize. You also only pay for what you use so it becomes very affordable to scale according to your needs.
Team Collaboration
DigitalOcean's infrastructure also allows two teams that are working on one project to join forces to get things done faster. You can invite up to 10 different teams and manage them from one central account. You can also assign permissions to different users, use two factor security to ensure security, and control how resources are used to manage your invoices better.
Pros and Cons
By now, you already know the pros and cons of DigitalOcean as a hosting provider. But here is a recap anyway.
Pros
Affordable: Comparing with other companies in the same space, DigitalOcean offers the best price for even better services. Beside that, you can also using digitalocean promo code to get $10 free credit in your account balance, you can used this to create free 2 months vps to try DigitalOcean services.
Very Fast Network: A 40Gbps network means that you get the best speeds in the market. If you are hosting a website, you never have to worry about the traffic to your website.
Fast SSD Storage: Very few companies have moved to SSD storage. The fact that DigitalOcean offers 100% SSD storage places it at the head of the pack as the go-to host provider.
Great UI: DigitalOcean's control panel places all features within easy reach. You can deploy, backup, restore, and manage servers/droplets with relative ease.
8 datacenters in 3 continents: For optimum user experience, you have the option to choose from 8 data centers located in the United States, Europe, and East Asia.
Easily Customizable Servers: You can easily customize your servers to your preferred customization. You can therefore run any application you want on them.
Cons
They don't offer Windows servers
They have no managed servers. You do all the deployment and maintenance work yourself
The customer support is quite slow to respond to inquiries.
Conclusion

DigitalOcean has made it clear that a company does not have to be a decade old to be an industry leader. It is a relatively new company but is already offering packages and features that rival all its competitors.
If you are looking for a high-performance host that will not dry your bank account, then DigitalOcean is for you. Just remember that you need to have technical know-how because after you deploy a droplet, you are responsible for what to do with it. DigitalOcean does not offer managed services whatsoever.