We have update the latest vultr coupon & vultr promo codes in May 2018 that gives you a $25 free credit at Vultr, double credit when add funds to your account and much more.


2018's May Vultr Coupon & Promo Codes

Sale
x2 Credit when Add Funds
(Limited Time)
Details: Gives you x2 credit when you add funds to your account. eg: if you add $100 to account, you will receive $200. The credit plus more is valid for 12 months. This offers only for NEW account.

Sale
Try Vultr, and get up to $100 for Free!
(Limited Time)
Details: Simply create an account at Vultr. When you fund your account Vultr will match dollar for dollar up to $100 of your Initial Funding

Sale
Receive $50 in Free Credit!
(Limited Time)
Details: Limited time offer from Vultr.Com give you free $50 in account credit. Claim to get free SSD VPS hosting!
DO More with Vultr, Fee $50 Credit
(Ends: Unknown)
Details: Applies this code in the Billing page to get free $50 in account credit for using in 6 months.
Get $20 Credit
(Ends: Limited time)
Details: Help you receive free $20 credit when you sign up new account.
Get $20 Credit
(Ends: 2018)
Details: Enter this coupon code while deploy new vps for receive free $20 Vultr credit.
Save 20% for Existing Customer
(Ends: Limited time)
Details: Just login to your account, then go to the link 'https://my.vultr.com/billing/activate20/', you'll get 20% off for the Compute Instance package.

Sale
$5 Free Trial!
(Limited Time)
Details: This deal give you $5 to start trial Vultr VPS.
Get Your FREE Cute Stickers
If you're a Vultr existing customer, you'll have a chance to get a Free Swag from Vultr. Swag are the sticker of all Vultr symbols, Its very nice and so cute :D. Click button below to go to the request link:
(In the free swag page, you fill all of your infirmations that they required, note that you must enter the email address of your Vultr account, then wait for approval from Vultr.)
How you get $3 in Credit when follow and tweet about Vultr on Twitter
Login to your Vultr Account.
Then go to The Promo page, or click to this link.
Next, Vultr gives you 3 options to get free $3 credit in your account. That is Verify your Twitter account, Follow @Vult on Twitter and Tweet about Vultr.
Just click to the button below one of 3 options and finished it, you'll have free $1. 🙂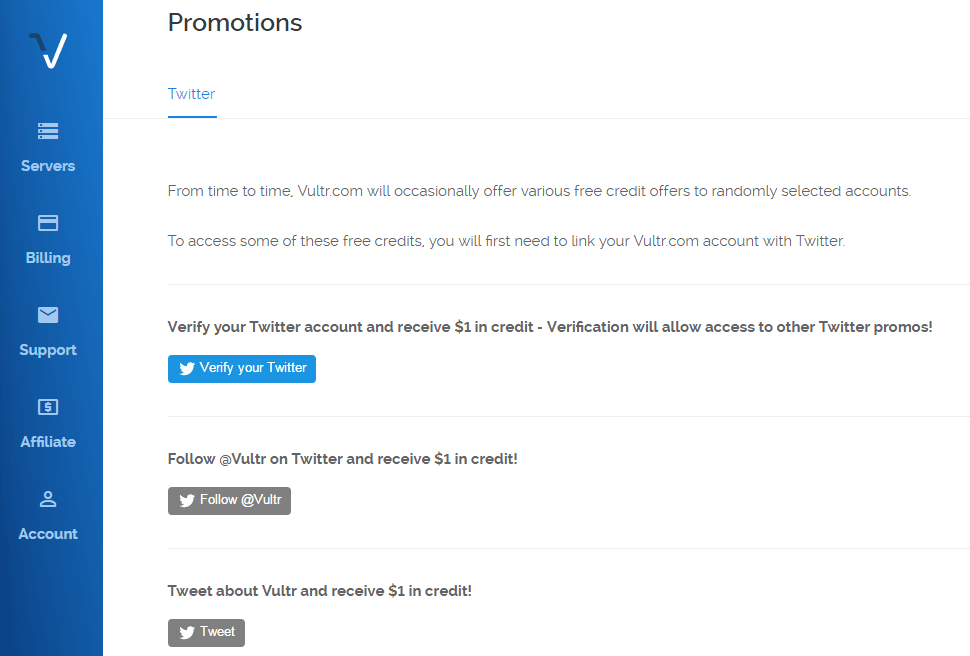 How you get a 50GB Block Storage for Free
Go & log into Account Management at Vultr
Next, click to the section Block Storage >>> Add Block Storage
Next, select 50GB in the Storage Size, enter any Storage Label name you want.
Final, hit to Add Block Storage button and waiting until the process of creating Block Storage is completed.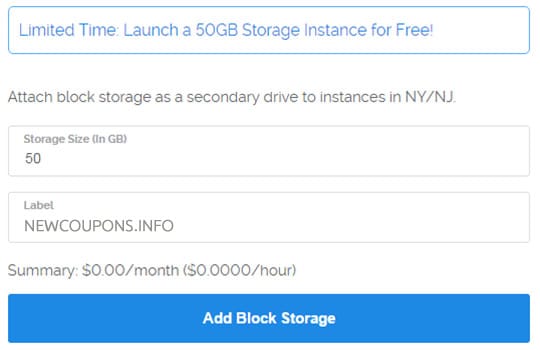 (The 50GB Block Storage gift is only available for the VPS that located in New York, NJ.)
Double Your Deposit at Vultr.Com
*** Update: Offer is no longer valid.
Vultr will match your first deposit dollar for dollar, up to $100, when you open a new account. Whenever, If you're new at Vultr, you also can get double your deposit when you create an account and make a first payment, maximum of up to $100 credit. Cannot be combined with any other offers, new customers only.
Eg: If you add funds of $100 to your Vultr account at the first payment, and in a wink, you'll have $200 :D. No need any coupons, very great !!!

Click button below to go to the promotion page:
–
Sign up and Get Double Your Deposit at Vultr.
Promotional credit will expire 12 months after issuance.
This promotion is available for a limited time.
New customers only.
How to use Vultr coupon
1
Go to
Vultr Vps
site, then click to
Pricing
at the top menu.
2
Choose Vps plan you want, then create new account (or login old account)
3
On
Account Manager
page, click to
Billing
in the top menu.
4
On the
Billing
page, choose
Credit Card
tab (
as default
), fill your credit card information, then paste Vultr coupon you has copied to
Redeem Gift Codes and Coupons
box, then click
Apply
, then click the
Link To Card
button at the bottom of page.
5
After add free credit success, you switch to
Deploy
tab and choose things you want for your VPS, after that click
Place Order
button. You're finished.
Vultr Review

Vultr.com is still a relatively new company having been in operation for less than 5 years. Despite this, it has rapidly grown to become one of the best VPS hosting providers in the market, rivaling big names like DigitalOcean. It offers KVM cloud instances that use SSD storage meaning you get cloud features. After launching, Vultr only offered a handful features but has expanded their feature set to include quick deployment, many server locations, ipv6, private networks, startup scripts, SSH keys, and more.If you are looking into getting VPS hosting for your blog or business website, Vultr is one company that you should seriously consider. But do not take our word to be the gospel truth, take time to read through this Vultr review and make a decision after you are done… read more
Vultr Pricing
| Plan | RAM | CPU | Storage (SSD) | Transfer | Price | |
| --- | --- | --- | --- | --- | --- | --- |
| Plan 1 | 768MB | 1 Core | 15 GB | 1000GB | $5/m | Sign Up |
| Plan 2 | 1024MB | 1 Core | 20 GB | 2000GB | $10/m | Sign Up |
| Plan 3 | 2048MB | 2 Core | 45 GB | 3000GB | $20/m | Sign Up |
| Plan 4 | 4096MB | 4 Core | 90 GB | 4000GB | $40/m | Sign Up |
| Plan 5 | 8192MB | 6 Core | 150 GB | 5000GB | $80/m | Sign Up |
| Plan 6 | 16384MB | 8 Core | 300 GB | 6000GB | $160/m | Sign Up |
| Plan 7 | 32768MB | 16 Core | 600 GB | 10000GB | $320/m | Sign Up |
| Plan 8 | 65536MB | 24 Core | 700 GB | 15000GB | $640/m | Sign Up |
Vultr Speed Test
Please click here to get the Links download file from Vultr server at 15 cities around the world for you test download speed from your location.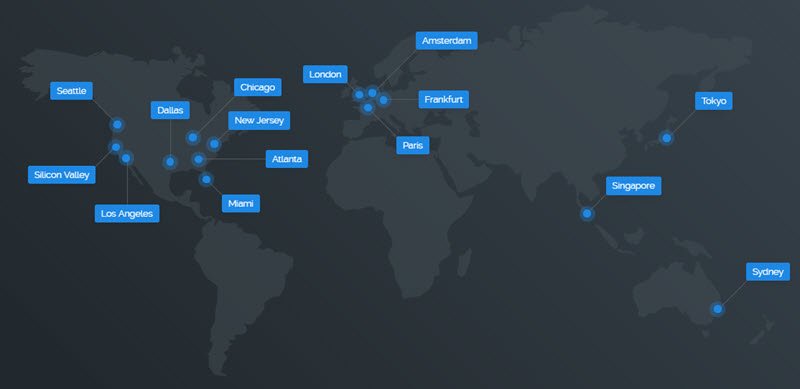 How to deploy a droplet at Vultr
Frequently Asked Questions for Vultr users
What operating system templates that Vultr offering?
They currently offer the following options: CentOS 6 x64, CentOS 6 i386, CentOS 5 x64, CentOS 5 i386, CentOS 7 x64, Ubuntu 12.04 x64, Ubuntu 12.04 i386, Ubuntu 14.04 x64, Ubuntu 14.04 i386, Ubuntu 15.04 x64, Ubuntu 15.04 i386, Ubuntu 15.10 x64, Ubuntu 15.10 i386, Debian 7 x64 (wheezy), Debian 7 i386 (wheezy), Debian 8 x64 (jessie), Debian 8 i386 (jessie), FreeBSD 10.2 x64, CoreOS Stable, Windows 2012 R2 x64. Windows licensing carries an additional $16 per instance surcharge. Vultr also offers the ability to install your own operating system from any Custom ISO you upload.
Does Vultr offer console access for users?
Yes, you can access the console for your virtual machine using the control panel.
Does they offer instance backups?
Yes, you may create snapshots of any active instance at any time. An they also offer daily automated backups – a paid service.
Where Can i check Vultr Status?
Can i additional new ip address ?
Yes, you can. Add new IPv4 Addresses cost $2/month or $0.003/hour
I forgot root password, how can i reset it?
You can reset root password at anytime. Follow all steps
at here
.
How can i enable private network?
You can enable Private Networking in two ways:
1. For new instances, on the deploy page you can select the Enable Private Networking checkbox
2. For existing instances, on the IPv4 tab you will have an Enable Private Networking button. This will require that you manually adding the configuration for the private interface. (You can spin up a new instance with the same OS if you want to see a sample configuration)
How can i upgrade my server?
From your control panel, please click on "Manage" for your VM and look under the Change Plan section