Step by step to let you know How to receiving and sending GoDaddy Email from Gmail.

Case 1: Receiving Email.
1
Go to
Gmail.com
, login your account.
2
Looking the top right corner, click on the gear icon.
3
You click to
Settings
, and then click on the
Accounts and Import Tab
.
4
Find to
"Check mail from other accounts (using POP3)"
and you click on
"Add a POP3 mail account you own".
5
Enter
your email address
('
[email protected]
') on the pop up display then click
Next Step.
6
Enter your
Username and Password
that you usually use for your email address on Godaddy webmail. you select on to
"Always use a secure connection (SSL) when retrieving mail"
and
"Label incoming messages:",
(if you would like to keep a copy of your emails on your godaddy server, stick to the box "Leave a copy of retrieved message on the server")
and finally click on
Add Account
. you're
Done
.
Username: your FULL email address.
Password: your password.
POP Server: pop.secureserver.net
Port: 995
You check the "Always use SSL" and "Label incoming message" box.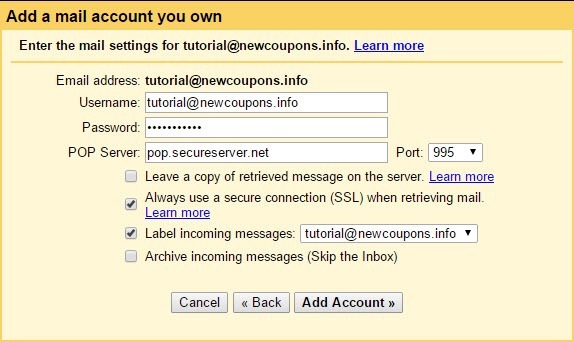 Case 2: Sending Email.
1
Follow the step 1,2,3 on
Case 1.
2
You looking
"Send Mail As"
selection and click on
"Add another email address that you own".
3
A window will pop up, enter your
Name
and
Email address
, stick to the box
"Treat as an alias"
and click
Next Step
.
4
Fill in the fields on the next page as you see below (using your own email address in place of "
[email protected]
").
SMTP server: smtpout.secureserver.net
Username: Your full email address.
Port: 465
Stick on Secured connection using SSL.
Click Add Account.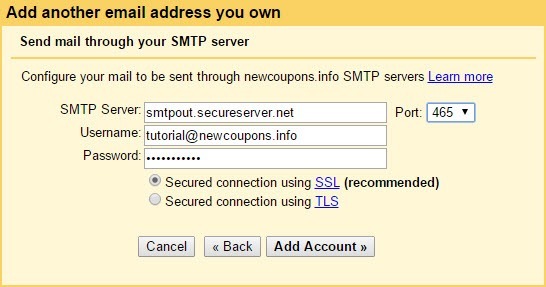 5
The last step is to verify. Login to your GoDaddy email account from Godaddy Webmail Application, open email from "Gmail Team", Click the verification link and follow the instructions to authenticate your account.
Next Step: How to Setup GoDaddy Email on Iphone or Droid?
Hope can help you, have a nice day 🙂